Legend has it that the name Blue Giraffe came from the daughters of the restaurant's previous owners. One girl's favorite color was blue, and the other's favorite animal was the giraffe!
The original Blue Giraffe on Periwinkle Way has been family-owned and operated since 2016. Fresh and delicious food has always been Blue Giraffe's priority, and the satisfaction of every guest is our goal.
Both restaurants cater to the locals and tourists who love the casual atmosphere, pet-friendly patio dining, and friendly service. But the focus remains on the food. A glance at the extensive menus shows the full range of options for breakfast, lunch and dinner.
Blue Giraffe at Periwinkle Place
Blue Giraffe at Periwinkle Place opens at 8 a.m., serving breakfast until noon. Lunch is served from 11 to 5, dinner from 5 to 8 or close, and takeout is always available. Blue Giraffe is located in Periwinkle Place, 2075 Periwinkle Way, in the Periwinkle Place Shops. There is free parking in front and in back. Please call ahead for takeout!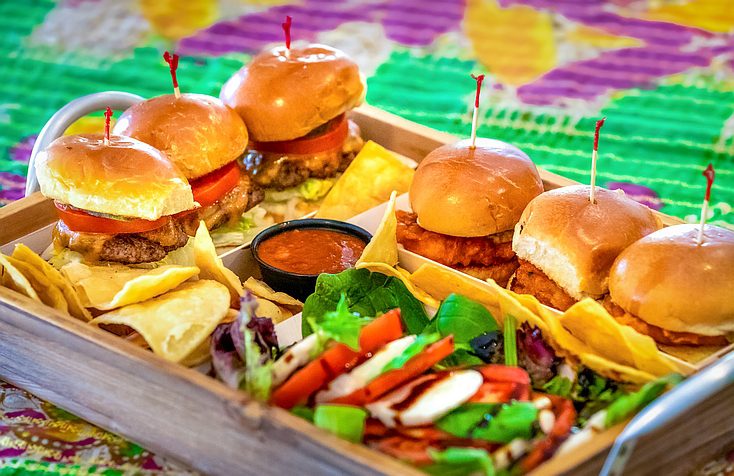 Blue Giraffe 2 at Beachview Estates
A second Blue Giraffe restaurant opened in December 2020, in the middle of the pandemic. The owners wanted to retain the island-inspired, casual atmosphere of the original restaurant, while bringing some new elements to the island.
Blue Giraffe 2 at Beachview Estates is located at 1100 Par View Drive, next to the Sanibel Island Golf Club. The focus remains on the food, served for lunch and dinner, with a fabulous brunch Saturday and Sunday, 11-3.
Summer Hours, June – September
11-8 Tuesday – Saturday, 11-3 Sunday, and closed Monday.
Like the original Periwinkle Place restaurant, guests may dine, inside, at the bar, on our pet-friendly patio, or takeout. The full liquor bar features all-day Happy Hour every day from 11 – 6. Reservations are recommended at Blue Giraffe 2. Please call ahead for reservations and takeout!
Local musicians perform live in our main dining room, with the sound piped out to our patio, on Wednesday, Friday and Saturday nights from December through March. When the schedule is available, we post it on our Facebook and Instagram pages. Please like and follow us to stay up to date!
We are also pleased to display large-format artworks by local visual artists year-round on a monthly rotation. We post announcements of new exhibits on Facebook and Instagram.
The Dinner Club at Blue Giraffe 2 is a unique addition to the island. Among the benefits, our Dinner Club Members enjoy the Clubhouse game room, which includes a pool table, shuffleboard table, card and game tables, and massage recliners in front of an 85-inch TV screen. Dinner Club Members and their guests may dine in the Clubhouse. Except for private events, non-members may not use the Clubhouse.
To become a Dinner Club Member, purchase a $1,200 Member Card at Blue Giraffe 2. The card may be used like a regular credit card or gift certificate for food, beverages and merchandise at either Blue Giraffe restaurant. It never expires, and can be replenished anytime. 
A Dinner Club membership card covers either one person or a couple. Members may use the card to pay for food and beverages for anyone.
Dinner Club Members also enjoy preferred reservations on our pet-friendly patio, in our  main dining room, and in the Clubhouse. Being able to book a table can be especially helpful in-season, between December and April, when the island is particularly busy.
Dinner Club Members who reserve our private dining room will share the room only with other Dinner Club members. The capacity of the private dining room is 16 people.
In the Clubhouse, reservations aren't necessary, but they are recommended for parties of six or more. Reservations assure Members priority use of the pool, shuffleboard and game tables, and massage recliners at the 85-inch big-screen TV.
Members may invite any number of guests to dine with them and use the Clubhouse game room, subject to availability. Frequent guests will be asked to join the Dinner Club.
Children under age 21 are not allowed in the Clubhouse.
Member Events will be announced by email to all Dinner Club and Clubhouse Members. Join your friends and other members for sporting events, casino nights, trivia nights, and other gatherings.
Clubhouse memberships are available for $250 per year for people who want to use the Clubhouse but do not wish to join the Dinner Club. Clubhouse Members may reserve and use the Clubhouse anytime, subject to availability, and purchase food and beverages separately. 
Clubhouse Members may bring up to 3 adult guests to the Clubhouse for up to 3 hours per day.
Clubhouse Day Passes, good for up to 3 hours, may be purchased for $10 for 2 adults, $20 for 6 adults, and $5 for each additional guest, subject to availability.
The Clubhouse, the patio, the private dining room and the main dining room are available for Private Events by prior arrangement.